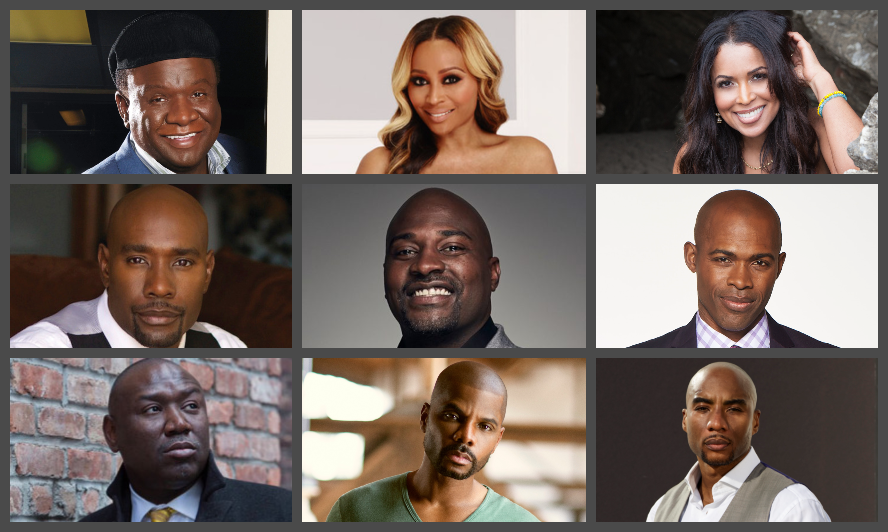 ATLANTA, GA (February 7, 2018)—Multiple EMMY® winning producer, social media influencer and entrepreneur Rushion McDonald, has kicked off an all-star month for February on his hit radio talk show "Money Making Conversations," as guests line up to share powerful career conversations and insightful business tips on their "secrets of success" on his popular radio talk show. "Money Making Conversations," hosted and produced by Rushion McDonald, can be heard via iHeartRadio Podcast and live every Monday, 10 AM to 12 Noon EST on Biz1190 AM from Atlanta, GA.
Kicking off his radio show on February 5th, Rushion McDonald welcomed a superstar lineup of athletes and entrepreneurs to the show, speaking with ESPN host, entrepreneur and former NFL All Pro player Marcellus Wiley; Heisman Trophy winner and former NBA player Charlie Ward, whose biography was captured in the recent book The Athlete; business mogul Willard Jackson, Vice Chairman of Ebony Magazine; NAACP Image Award-winning music producer Angela Jollivette; and business owner Norwood Clark, of Darrow's New Orleans Grill in Los Angeles. The all-star lineup of guests* continues throughout the month of February on "Money Making Conversations," with expected guests to include New York Times best-selling international author Dr. Ian Smith; "The Real Housewives of Atlanta" star and entrepreneur Cynthia Bailey discussing their Nubian Book Nook Club; legendary comedian and entrepreneur George Wallace; Morris Chestnut and Obi Obadike, authors of The Cut fitness book; LinkedIn expert Robert T. Youngblood; Celeste Bell of Major League Baseball Advanced Media; TV health and fitness expert Christine Lusita; American Black Film Festival founder and entrepreneur Jeff Friday; GRAMMY® winning recording artist and entrepreneur Kirk Franklin; BlackDoctor.org CEO Reggie Ware; EMMY® winning TV host and activist Shaun Robinson, President of the S.H.A.U.N. Foundation for Girls; best-selling author, NCAA Basketball Champion and NBA Champion Derek Anderson; The Breakfast Club co-host Charlamagne Tha God; and more!
Through his multimedia company 3815 Media, Rushion McDonald, a business innovator, and branding expert, hosts and produces "Money Making Conversations," an informative free advice motivational show, as well as other creative ventures across radio, television, digital and social media. An influencer with a predominantly female following on his social media platforms and fan club members, McDonald is a two-time EMMY® winner and three-time NAACP Image Award winner, whose history in television includes producing and sitcom writing. Armed with vital information helping millennials and entrepreneurs stand out in any field, McDonald is creating exciting engagement in the entrepreneurial and financial literacy community through his radio talk show "Money Making Conversations," which has previously welcomed a who's who of insightful guests including Patti LaBelle, Attorney Ben Crump, Hill Harper, JaQuavis and Ashley Coleman, Michelle Williams, Tracey Edmonds, Cedric the Entertainer, Stephen A. Smith, Charlie Wilson, Holly Robinson Peete, Tichina Arnold, David and Tamela Mann, as well as other successful entrepreneurs and business leaders.
Of "Money Making Conversations" Rushion McDonald says, "It's humbling becoming a mentoring voice for our millennial generation, 18-34 years old. I don't mind being their Uncle Rushion and using Money Making Conversations as a national platform for their growth and development into entrepreneurs."
On his "Money Making Conversations" broadcast, McDonald shares the "secrets of success" he has experienced firsthand with his marketing and branding expertise. A brand guru, McDonald has been a marketer for major national and global brands working with the likes of State Farm, Ford and Home Depot, as well as working closely with celebrity talent Kevin Hart, Jamie Foxx, Stephen A. Smith, and most notably, Steve Harvey.
*List is subject to change
To connect with Rushion McDonald, please visit:
Facebook, Twitter, Instagram: @RushionMcDonald 
Contacts:
W&W Public Relations
Jacinda Chen / Jacinda@w-wpr.com
Aliya Crawford / Aliya@w-wpr.com